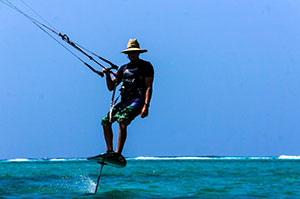 Foil Days, enjoying a slower pace of life.
November marks the beginning of windy season, through to April we can expect regular cold fronts delivering 18-30 knots of north easterly bliss. Still windy season remains a few months away these summer months can feel very long and frustrating for us kite folk. My advice would be to master the art of light wind kite flying, rest up, eat well and train, This way when November hits as a rider you will be physically and mentally prepared, thus increasing productivity on the water which equals higher stoke levels and increased bodacity! ( yes I just quoted kung fu panda ) Bodacity
Anyway back on track, in the lead up to November you can expect a series of blog posts focusing on kitesurfing tips and tricks covering a range of subjects from equipment to riding fundamentals. Hopefully these will be entertaining and prove useful.
Todays Post we will be breaking down the Twin Tip and taking a look into the top 4 features we need to factor in when selecting our chariot.
The top 4 ( ranked in order highest to lowest to consider )
Flex
Rocker
Concave
Fins + Channeling
Before we go into detail please bare in mind that the ride and feel of the board is unique to each rider, some may disagree with the following information. This is here to serve as a guideline with the goal to help individuals decision making process when purchasing a board easier.
1. Flex ( Flexibility )
The flex of the board is determined by the construction, materials and thickness of the board. Many higher end boards will have multiple or a progressive flex pattern throughout the board. The basic principle of having a higher flex pattern results in a smoother ride as the board naturally absorbs vibrations and chop. The added comfort of a flexible board we sacrifice speed and performance as a stiffer board will plane faster and more efficiently through the water, this will take a higher physical toll which may be a large consideration for the rider. Previously mentioned a lot of modern high end boards will have multiple or progressive flex patterns for example a stiffer centre section with increased flex in the tips resulting in the best of both worlds, with the increased performance and tech invested into these boards you can expect the price point to reflect the board.
2. Rocker ( curvature of the board tip to tail )
The rocker line of the board plays a huge part in the boards overall ride and will have an effect on the flex pattern of the board.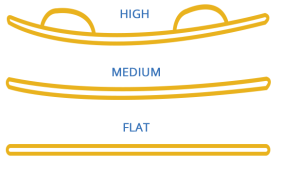 On average 75% of riders will purchase a board marketed by a brand an "all around" or "free ride" board these will have a medium rocker throughout the board. Riders looking at specific types of riding may opt for a specific high or low rocker line dependant on their riding style. A flat rocker will deliver higher riding speed which a lot of free style riders may opt for where as riders hitting natural or artificial features such as waves, kicker or sliders may prefer a high rocker line.
The rocker will have an effect on the low and high end of the board, flat rocker lines will have an increased low end due to increased surface contact, where as riders will be able to hold more power through a board with a higher rocker line as the board sits deeper in the water.
3. Concave ( the interior geometry of the board )
The concave of the board will have a direct effect the boards water displacement, grip and riding speed, some concave examples ranging from basic flat or single concave boards to higher end boards that have advanced bottom shaping.
The advantages of a concave are a soft entry in choppy conditions and a relatively loose ride feel. Urban Legend might have us believe that a concave bottom planes earlier, which in theory is true but this definitely isn't down to a mystical air-cushion or air water mixture that lifts the board out of the water. This section of air trapped underside of the board does provide a softer landing after jumps and on surface contact the pressure causes this cushion of air to expand.
4. Fins + Channeling
Now we come down to overall grip of the board, this can also be determined by rail shape and rocker line but the fundamentals lie with the Channeling and fin size of the board.

Channeling will not effect the riding speed or comfort of the board however it will increase the boards high end. Riders hitting artificial features such as rails, kickers or sliders will probably opt for a board with high channeling to eliminate the need to ride with fins. It comes down to personal preference but on average most riders want as much grip as possible to it would be advisable to look for decent bottom shape in your board choice however this will also be reflected in the price point. On the same category of grip, fins are often overlooked and most riders will be happy to ride the board for its whole lifetime on stock factory fins, again down to personal preference, riders who like to slide around and throw down some freestyle may opt for small ( 0.5″-1.5″) or no fins. Large fins ( 1.75″-2.5″ ) will provide maximum grip however the increased fin size may result in fin bite maximising the chance of wiping out on landing or simply catching a fin whilst riding.
Simple Summary
Like fine wine, art and jazz. Riding style, equipment and performance is subjective, one riders dream could be another's nightmare. I encourage everyone to try as much equipment with various setups from as many brands as possible before purchasing. Remember just because Ruben Lenten is the boss and his setup is pimpin and you will look cool setting up, you don't want to be a kook on the water and purchase equipment you cant use. A little time and research will go along way, I hope you have enjoyed this read, any questions can be sent directly to White Sand at whitesandwatersports@gmail.com or through the White Sand facebook page.
Stay tuned for the next post which will cover various kite platforms and how they impact our riding experience, until then enjoy this roasting pot we call Cayman, wear sunscreen drink water and take it easy.
Ta
Jamie